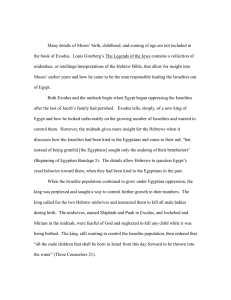 Many details of Moses` birth, childhood, and coming of age are not
... parents to hide his birth from the Egyptian bailiffs; he was able to walk and speak when only one day old; he was placed in the Nile, in a basket which floated; he was found by the Pharaoh's daughter, who admired him immediately; and he was raised as a member of the royal family. In addition to prov ...
Pekudei
Pekudei, Pekude, Pekudey, P'kude, or P'qude (פְקוּדֵי – Hebrew for ""amounts of,"" the second word, and the first distinctive word, in the parashah) is the 23rd weekly Torah portion (פָּרָשָׁה, parashah) in the annual Jewish cycle of Torah reading and the 11th and last in the book of Exodus. It constitutes Exodus 38:21–40:38. The parashah is made up of 4,432 Hebrew letters, 1,182 Hebrew words, and 92 verses, and can occupy about 159 lines in a Torah scroll (סֵפֶר תּוֹרָה, Sefer Torah).Jews read it the 22nd or 23rd Sabbath after Simchat Torah, in March. The lunisolar Hebrew calendar contains up to 55 weeks, the exact number varying between 50 in common years and 54 or 55 in leap years. In leap years (for example, 2016, 2019, 2022, 2024, 2025, and 2027), parashah Pekudei is read separately. In common years (for example, 2015, 2017, 2018, 2020, 2021, 2023, and 2026), parashah Pekudei is combined with the previous parashah, Vayakhel, to help achieve the needed number of weekly readings.The parashah tells of the setting up of the Tabernacle.