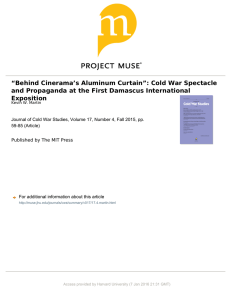 "Behind Cinerama's Aluminum Curtain": Cold War Spectacle and
... In this article I analyze the discourse produced by the U.S. government's unusual entry in this multifaceted contest, twice-daily screenings of the film This Is Cinerama—the first exhibition of Cinerama's unique "panoramic" widescreen projection and "surround-sound" technology outside the United Sta ...
Centennial Exposition
The Centennial International Exhibition of 1876, the first official World's Fair in the United States, was held in Philadelphia, Pennsylvania, from May 10 to November 10, 1876, to celebrate the 100th anniversary of the signing of the Declaration of Independence in Philadelphia. Officially named the International Exhibition of Arts, Manufactures and Products of the Soil and Mine, it was held in Fairmount Park along the Schuylkill River on fairgrounds designed by Herman J. Schwarzmann. Nearly 10 million visitors attended the exhibition and thirty-seven countries participated in it. There were five main buildings in the exhibition. They were the Main Exhibition Building, Memorial Hall, Machinery Hall, Agricultural Hall, and Horticultural Hall.