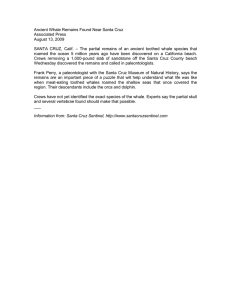 ancient whale remains found near santa cruz
... SANTA CRUZ, Calif. – The partial remains of an ancient toothed whale species that roamed the ocean 5 million years ago have been discovered on a California beach. Crews removing a 1,000-pound slab of sandstone off the Santa Cruz County beach Wednesday discovered the remains and called in paleontolog ...
University of California, Santa Cruz
The University of California, Santa Cruz (also known as UC Santa Cruz or UCSC), is a public, collegiate university and one of 10 campuses in the University of California system. Located 75 miles (120 km) south of San Francisco at the edge of the coastal community of Santa Cruz, the campus lies on 2,001 acres (810 ha) of rolling, forested hills overlooking the Pacific Ocean and Monterey Bay.Founded in 1965, UC Santa Cruz is considered as a Public Ivy institution. It began as a showcase for progressive, cross-disciplinary undergraduate education, innovative teaching methods and contemporary architecture. Since then, it has evolved into a modern research university with a wide variety of both undergraduate and graduate programs, while retaining its reputation for strong undergraduate support and student political activism. The residential college system, which consists of ten small colleges, is intended to combine the student support of a small college with the resources of a major university.