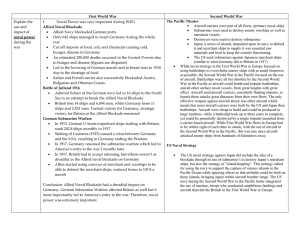 First World War Second World War Explain the use and impact of
...  Submarines were used to destroy enemy warships as well as merchant vessels.  Destroyers were used to destroy submarines  Japan, a series of islands, depended upon its navy to defend it and merchant ships to supply it was essential raw materials and food to keep the country functioning.  The US ...
Aviation in World War I
World War I was the first time that aircraft were used on a large scale. Tethered observation balloons had already been employed in several wars, and would be used extensively for artillery spotting. Germany employed Zeppelins for reconnaissance over the North Sea and Baltic and also for strategic bombing raids over Britain and the Eastern Front.Aeroplanes were just coming into military use at the outset of the war. Initially, they were used mostly for reconnaissance. Pilots and engineers learned from experience, leading to the development of many specialized types, including fighters, bombers, and ground-attack aeroplanes.Ace fighter pilots were portrayed as modern knights, and many became popular heroes. The war also saw the appointment of high-ranking officers to direct the belligerent nations' air war effort.While the impact of aircraft on the course of war was mainly tactical rather than strategic, most important being direct cooperation with ground forces (especially ranging and correcting artillery fire) the first steps in the strategic roles of aircraft in future wars was also foreshadowed.