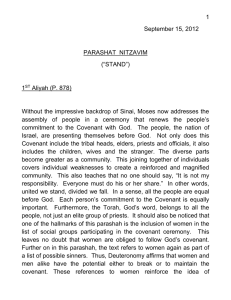 Nitzavim - Temple Beth El
... amazing commitment. We were all there, you and I, joining together or holding hands with these Israelites who are affirming their commitment to the Covenant. We, alongside of the ancient Israelites, are becoming part of God's chosen or those people who dedicate themselves to keeping the mitzvoth. Th ...
Nitzavim
Nitzavim, Nitsavim, Nitzabim, Netzavim, or Nesabim (נִצָּבִים — Hebrew for ""ones standing,"" the second word, and the first distinctive word, in the parashah) is the 51st weekly Torah portion (פָּרָשָׁה, parashah) in the annual Jewish cycle of Torah reading and the eighth in the book of Deuteronomy. It constitutes Deuteronomy 29:9–30:20.Jews generally read it in September or, rarely, early October, on the Sabbath immediately before Rosh Hashanah. The lunisolar Hebrew calendar contains up to 55 weeks, the exact number varying between 50 in common years and 54 or 55 in leap years. In some leap years (for example, 2015, 2016, 2018, 2019, 2021, 2022, and 2025), Parashah Nitzavim is read separately. In common years (for example, 2017, 2020, 2023, 2024, 2026, and 2027), Parashah Nitzavim is combined with the next parashah, Vayelech, to help achieve the number of weekly readings needed. The two Torah portions are combined except when two Sabbaths fall between Rosh Hashanah and Sukkot and neither Sabbath coincides with a Holy Day. In the standard Reform prayerbook for the High Holy Days (מחזור, machzor), parts of the parashah, Deuteronomy 29:9–14 and 30:11–20, are the Torah readings for the morning Yom Kippur service, in lieu of the traditional reading of Leviticus 16.In the parashah, Moses told the Israelites that all the people stood before God to enter into the covenant, violation of which would bring on every curse, but if they returned to God and heeded God's commandments, then God would take them back in love and bring them together again from the ends of the world. Moses taught that this Instruction was not beyond reach, and Moses put before the Israelites life and death, blessing and curse, and exhorted them to choose life by loving God and heeding the commandments.