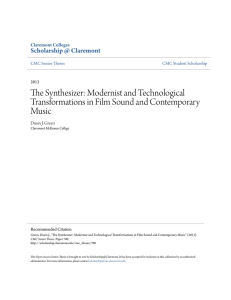 The Synthesizer - Scholarship @ Claremont
... synthesizer technology, over the next several decades, technological improvements would take place such as the miniaturization of parts, and numerous synth manufacturers would join the growing industry. Eventually the synthesizer and electronic drum kits, as well as improvements such as MIDI technol ...
Chiptune
A chiptune, also known as chip music or 8-bit music, is synthesized electronic music which is 1) made for PSG sound chips (real or emulated) used in vintage computers, consoles, and arcade machines or 2) tracker format music which intentionally sounds similar to old PSG chip music or 3) music that combines PSG sounds and modern electronica/EDM music styles.In the early 1980s, personal computers became less expensive and more accessible than they had previously been. This led to a proliferation of outdated personal computers and game consoles that had been abandoned by consumers as they upgraded to newer machines. They were in low demand by consumers as a whole, and not difficult to find, making them a highly accessible and affordable method of creating sound or art. While it has been a mostly underground genre, chiptune has had periods of moderate popularity in the 1980s and 21st century, and has influenced the development of electronic dance music.