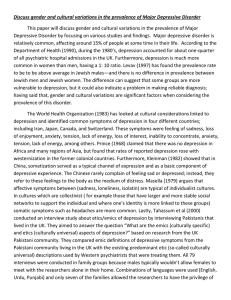 Discuss gender and cultural variations in the prevalence of Major
... China, somatization served as a typical channel of expression and as a basic component of depressive experience. The Chinese rarely complain of feeling sad or depressed; instead, they refer to these feelings to the body as the medium of distress. Masella (1979) argues that affective symptoms between ...
Ann Cvetkovich
Ann Cvetkovich (born 1957) is the Ellen Clayton Garwood Centennial Professor of English and Professor of Women's and Gender Studies at the University of Texas at Austin. She has published three books: Mixed Feelings: Feminism, Mass Culture, and Victorian Sensationalism (1992); An Archive of Feelings: Trauma, Sexuality, and Lesbian Public Cultures (2003); and Depression: A Public Feeling (2012). She has also co-edited Articulating the Global and Local: Globalization and Cultural Studies (1996) with Douglas Kellner, as well as Political Emotions: New Agendas in Communication (2010) with Janet Staiger and Ann Reynolds. Furthermore, Cvetkovich has co-edited a special issue of Scholar and Feminist Online, entitled ""Public Sentiments"" with Ann Pellegrini. She is also a former co-editor of GLQ: A Journal of Lesbian and Gay Studies with Annamarie Jagose.Cvetkovich's scholarship has been widely influential within academic circles. A number of well-known scholars have drawn on her work, including Jack Halberstam, Heather Love, Sara Ahmed, and Deborah Gould.In her scholarship, Cvetkovich engages with feminist and queer theory, affect and feeling, theories of the archive, and oral history. She has also argued for the significance of looking at the everyday effects of trauma. Her interdisciplinary work explores a wide range of cultural and artistic forms, including documentary film, memoirs, music and dance performances, literature, and visual art.