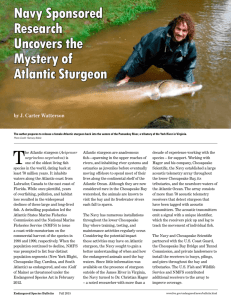 Endangered Species Bulletin - (DoD) Natural Resources Program
... estuaries as juveniles before eventually moving offshore to spend most of their lives along the continental shelf of the Atlantic Ocean. Although they are now considered rare in the Chesapeake Bay watershed, the animals are known to visit the bay and its freshwater rivers each fall to spawn. The Nav ...
Chesapeake Bay
The Chesapeake Bay (/ˈtʃɛsəpiːk/ CHESS-ə-peek) is an estuary lying inland from the Atlantic Ocean, and surrounded by the North American mainland to the West, and the Delmarva Peninsula to the East. It is the largest such body in the US. The northern bay is within Maryland, the southern portion within Virginia, and is a very important feature for the ecology and economy of those two states, as well as others. More than 150 major rivers and streams flow into the bay's 64,299-square-mile (166,534 km2) drainage basin, which covers parts of six states (New York, Pennsylvania, Delaware, Maryland, Virginia and West Virginia) plus all of the District of Columbia.The bay is approximately 200 miles (320 km) long from its northern headwaters in the Susquehanna River to its outlet in the Atlantic Ocean. It is 2.8 miles (4.5 km) wide at its narrowest (between Kent County's Plum Point near Newtown and the Harford County shore near Romney Creek) and 30 miles (48 km) at its widest (just south of the mouth of the Potomac River). Total shoreline including tributaries is 11,684 miles (18,804 km), circumnavigating a surface area of 4,479 square miles (11,601 km2). Average depth is 21 feet (6.4 m), reaching a maximum of 174 feet (53 m). The bay is spanned twice, in Maryland by the Chesapeake Bay Bridge from Sandy Point (near Annapolis) to Kent Island and in Virginia by the Chesapeake Bay Bridge-Tunnel connecting Virginia Beach to Cape Charles. Known for both its beauty and bounty, the bay is becoming ""emptier"", with fewer crabs, oysters and watermen in recent years. Recent restoration efforts begun in the 1990s have been ongoing and show potential for growth of the native oyster population.