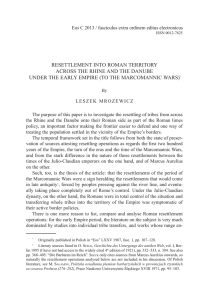 resettlement into roman territory across the rhine and the
... the Vangiones and Nemetes; Germ. 28, all three; and Hist. IV 70, the Vangiones and Triboci). That has given rise to suspicions24 that after Ariovistus' defeat they remained, under a  separate treaty with Caesar, on the left bank of the Rhine. However, the opinion prevailing in recent years is more c ...
Commissions of the Danube River
See Internationalization of the Danube River for events before 1856.The Commissions of the Danube River were authorized by the Treaty of Paris (1856) after the close of the Crimean War. One of these international commissions, the most successful, was the European Commission of the Danube, or, in French, Commission Européenne du Danube, the CED, which had authority over the three mouths of the river — the Chilia in the north, the Sulina in the middle, and the St. George in the south and which was originally designed to last for only two years. Instead, it lasted eighty-two years. A separate commission, the International Danube Commission, or IDC, was authorized to control commerce and improvements upriver beyond the Danube Delta and was supposed to be permanent, but it was not formally organized until after 1918.