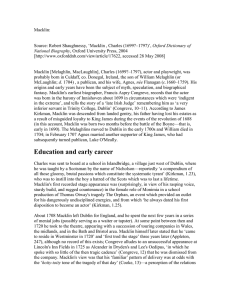 Macklin - chass.utoronto
... For the 1746–7 season Garrick was engaged by John Rich for Covent Garden, and his place was taken by the young Irish player Spranger Barry, who became one of Macklin's close friends. During 1747 Garrick entered into partnership with James Lacy as joint owner and manager of the Drury Lane theatre. Af ...
Samuel Foote
Samuel Foote (January 1720 – 21 October 1777) was a British dramatist, actor and theatre manager from Cornwall. He was known for his comedic acting and writing, and for turning the loss of a leg in a riding accident in 1766 to comedic opportunity.