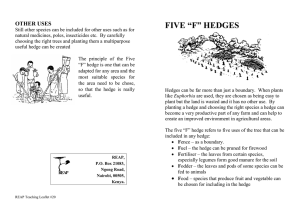 Blank for reaching leaflets
... create an improved environment in agricultural areas. The five "F" hedge refers to five uses of the tree that can be included in any hedge:  Fence – as a boundary.  Fuel – the hedge can be pruned for firewood  Fertiliser – the leaves from certain species, especially legumes form good manure for t ...
Hedge
A hedge or hedgerow is a line of closely spaced shrubs and tree species, planted and trained to form a barrier or to mark the boundary of an area. Hedges used to separate a road from adjoining fields or one field from another, and of sufficient age to incorporate larger trees, are known as hedgerows. It is also a simple form of topiary.