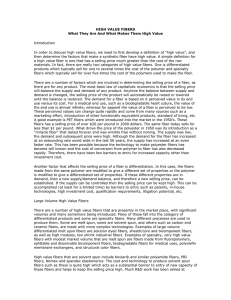 high value fibers
... will balance the supply and demand of any product. Anytime the balance between supply and demand is changed, the selling price of the product will automatically be raised or lowered until the balance is restored. The demand for a fiber is based on it perceived value in its end use versus its cost. F ...
Die forming (plastics)
A die in polymer processing is a metal restrictor or channel capable of providing a constant cross sectional profile to a stream of liquid polymer. This allows for continuous processing of shapes such as sheets, films, pipes, rods, and other more complex profiles. This is a continuous process, allowing for constant production (assuming constant supply of polymer melt), as opposed to a sequential (non-constant) process such as injection molding.