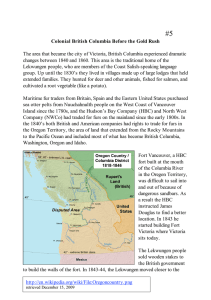 Colonial British Columbia Before the Gold Rush The area that
... neither party may have fully understood the other. As part of their agreement with the British government, the HBC advertised for settlers in Britain and brought out several hundred colonists on sailing vessels in the 1850s. In a census taken in 1854, the total European population of Vancouver Islan ...
George Vancouver
Captain George Vancouver (22 June 1757 – 10 May 1798) was an English officer of the Royal Navy, best known for his 1791–95 expedition, which explored and charted North America's northwestern Pacific Coast regions, including the coasts of contemporary Alaska, British Columbia, Washington and Oregon. He also explored the Hawaiian Islands and the southwest coast of Australia.In Canada, Vancouver Island and the city Vancouver are named after him, as are Vancouver, Washington in the United States, Mount Vancouver on the Yukon/Alaska border and New Zealand's fourth highest mountain.