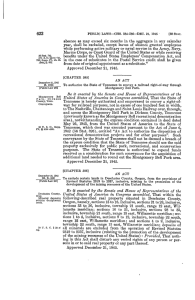 622 absence as may exceed six months in the
... Be it enacted by the Senate and House of Representatives of the United States of America in Congress assembled, That within the following-described real property situated in Deschutes County, Oregon, namely, sections 13 to 16, inclusive, sections 21 to 28, inclusive, sections 33 to 36, inclusive, to ...
John Joseph Montgomery
John Joseph Montgomery (February 15, 1858 – October 31, 1911) was an American inventor, physicist, engineer, and professor at Santa Clara College in Santa Clara, California who is best known for his invention of controlled heavier-than-air flying machines.In the 1880s Montgomery, a native of Yuba City, California made manned flight experiments in a series of gliders in the United States in Otay Mesa near San Diego, California. Although not publicized in the 1880s, these early flights were first described by Montgomery as part of a lecture delivered at the International Conference on Aerial Navigation at Chicago, 1893. These independent advances came after flights by European pioneers such as George Cayley's coachman in England (1853) and Jean-Marie Le Bris in France (1856). While Montgomery himself never claimed firsts, his flight experiments of the 1880s are considered by some historians and organizations to have been the first controlled flights of a heavier-than-air flying machine in America, or in the Western Hemisphere depending on source.Montgomery devised different control mechanisms for his gliders including weight shifting for roll and an elevator for pitch (1884), and subsequent designs incorporated hinged, pilot-operated trailing edge flaps on the wings (1885-1886) for roll control, leading to full wing warping systems for roll (1903-1905) and full wing warping systems for both pitch and roll (1911).