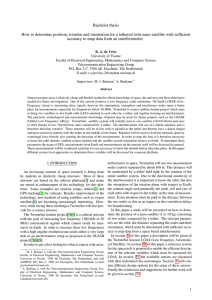 Bachelor thesis How to determine position, rotation and orientation
... required for interferometry are shown in figure 1. The satellite will measure low frequency (<100 MHz) at two different positions to perform interferometry. This requires two antennas with appropriate filtering and amplification. Next the signals have to be correlated and be provided to researchers. ...
Space tether missions
A number of space tethers have been deployed in space missions. Tether satellites can be used for various purposes including research into tether propulsion, tidal stabilisation and orbital plasma dynamics.The missions have met with varying degrees of success; a few have been highly successful.