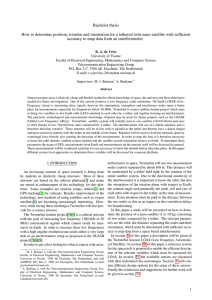 Bachelor thesis How to determine position, rotation and orientation
... fourth for inter-satellite communication as described in[10]. The correlated signal by itself does not contain all the information on what was measured. In order to determine if the signal is from Earth or a particular direction in space it is necessary to know the attitude of the satellite. How thi ...
Space tether
Space tethers are long cables which can be used for propulsion, momentum exchange, stabilization and altitude control, or maintaining the relative positions of the components of a large dispersed satellite/spacecraft sensor system. Depending on the mission objectives and altitude, spaceflight using this form of spacecraft propulsion may be significantly less expensive than spaceflight using rocket engines.