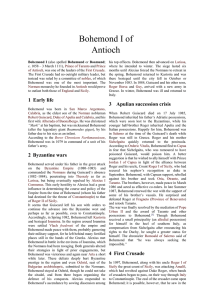 Bohemond I of Antioch
... and beautiful face. So great was the reputation for Ghazi Gümüştekin of Sivas, was preparing an valour of the French kingdom and of the Lord Louis expedition to capture Malatia, and the Armenians that even the Saracens were terrified by the prospect sought help from Bohemond. of that marriage. She w ...
Bohemond I of Antioch
Bohemond I (also spelled Bohemund or Boamund; c. 1058 – 3 March 1111), Prince of Taranto and Prince of Antioch, was one of the leaders of the First Crusade. The First Crusade had no outright military leader, but instead was ruled by a committee of nobles, of which Bohemond was one of the most important. The Norman monarchy he founded in Antioch would prove to outlast both those of England and Sicily.