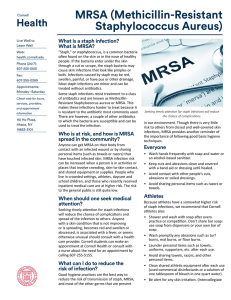 MRSA (Methicillin-Resistant Staphylococcus Aureus)
... Anyone can get MRSA on their body from contact with an infected wound or by sharing personal items (such as towels or razors) that have touched infected skin. MRSA infection risk can be increased when a person is in activities or places that involve crowding, skin-to-skin contact, and shared equipme ...
Katharine Cornell
Katharine Cornell (February 16, 1893 – June 9, 1974) was an American stage actress, writer, theater owner and producer. She was born in Berlin to American parents and raised in Buffalo, New York.Cornell is regarded as one of the greatest American stage actresses of the 20th century. She was nicknamed ""First Lady of the Theatre,"" a title also bestowed upon her friend Helen Hayes, though each deferred to the other. Cornell is noted for her major Broadway roles in serious dramas, often directed by her husband, Guthrie McClintic; the couple formed a production company, which gave them complete artistic freedom in choosing and producing plays. Their production company gave first or prominent Broadway roles to some of the greatest actors of the 20th century, including many of the great British Shakespearean actors. In addition, the strength of her acting and the quality of the productions brought popular success to such authors as George Bernard Shaw and William Shakespeare, who until then were not often performed, thereby paving the way for their eventual popularity throughout the country for the rest of the century and beyond.