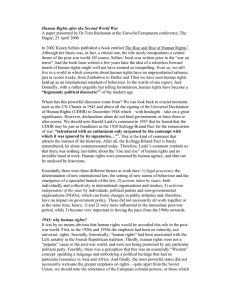 Human Rights after the Second World War A
... During the 1960s and 70s there was considerable evidence of a changing sensibility with regard to human rights. • There was increasing pressure on governments that violated human rights from both NGOs and inter-state bodies. For instance, the Greek "Colonels" regime of 1967-74 was heavily criticised ...
Nils Muižnieks
Nils Muižnieks (born 31 January 1964 in the United States) is a Latvian human rights activist and political scientist. He has served as Council of Europe Commissioner for Human Rights since 1 April 2012, succeeding Thomas Hammarberg (2006–2012) and Álvaro Gil-Robles (1999–2006).