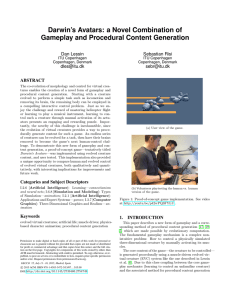 Darwin`s Avatars: a Novel Combination of Gameplay and Procedural
... ordering of muscles and keys is appropriate to the fundamental gameplay challenge of learning a non-intuitive interface to creature control, and it may also be required if the game is to take advantage of the open-ended generation of content provided by the EVC system. Keys control muscle activation ...
Deus Ex: Human Revolution
Deus Ex: Human Revolution is a cyberpunk-themed first-person action role-playing stealth video game developed by Eidos Montreal and published by Square Enix, which also produced the game's CGI sequences. Originally released in August 2011 for PC, PlayStation 3 and Xbox 360, it is the third game in the Deus Ex series, and a prequel to the original game released in 2000. An OS X version, Deus Ex: Human Revolution Ultimate Edition, was released on April 26, 2012 by Feral Interactive; it includes the original game and The Missing Link downloadable content. An improved version of the game for PC and consoles, including a Wii U version, was released on October 22, 2013 as Deus Ex: Human Revolution Director's Cut. Feral Interactive released the OS X version of Director's Cut on April 15, 2014. The Director's Cut includes The Missing Link as part of the main plot.The game is set in 2027, 25 years before the first game and 45 years before the second game, at a time when multinational corporations have grown in power beyond the control of national governments. The game follows Adam Jensen, the newly hired security manager at Sarif Industries, a growing biotechnology firm. After terrorists brutally attack Sarif's Detroit-based headquarters, the mortally wounded Jensen is forced to undergo radical life-saving surgeries that replace large areas of his body with advanced prostheses and internal organ systems. Returning to work, he becomes embroiled in the global politics of the human enhancement movement in the search for those responsible for the attack. Central themes to the game are the rise of corporations in globalization, espionage, human survival, poverty, and the ethics of advancing humans with artificial replacements for body parts.Human Revolution received critical acclaim upon its release, with many reviewers praising the open-ended nature of the game and the weight of social interaction on the outcome of events. A sequel, Deus Ex: Mankind Divided, was revealed in April 2015, which will be available on PC, PlayStation 4 and Xbox One.