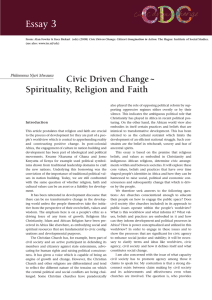 Civic Driven Change~ Spirituality, Religion and Faith
... change due to internal and external dynamics within society and hence it would be superfluous to insist in terms of development activities on holding on to traditions and especially those that perpetuate exclusion in terms of race, class or gender. But is there a core of culture that is relatively i ...
World view
A comprehensive world view or worldview is the fundamental cognitive orientation of an individual or society encompassing the entirety of the individual or society's knowledge and point of view. A world view can include natural philosophy; fundamental, existential, and normative postulates; or themes, values, emotions, and ethics. The term is a calque of the German word Weltanschauung [ˈvɛlt.ʔanˌʃaʊ.ʊŋ], composed of Welt ('world') and Anschauung ('view' or 'outlook') The German word is also used in English.It is a concept fundamental to German philosophy and epistemology and refers to a wide world perception. Additionally, it refers to the framework of ideas and beliefs forming a global description through which an individual, group or culture watches and interprets the world and interacts with it.