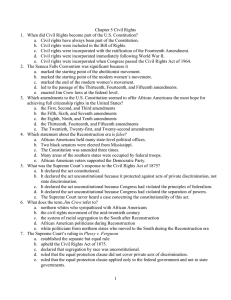 Chapter 5 Civil Rights(1)
... d. led to the passage of the Thirteenth, Fourteenth, and Fifteenth amendments. e. enacted Jim Crow laws at the federal level. Which amendments to the U.S. Constitution seemed to offer African Americans the most hope for achieving full citizenship rights in the United States? a. the First, Second, an ...
Michigan Civil Rights Initiative
The Michigan Civil Rights Initiative (MCRI), or Proposal 2 (Michigan 06-2), was a ballot initiative in the U.S. state of Michigan that passed into Michigan Constitutional law by a 58% to 42% margin on November 7, 2006, according to results officially certified by the Michigan Secretary of State. By Michigan law, the Proposal became law on December 22, 2006. MCRI was a citizen initiative aimed at stopping discrimination based on race, color, sex, or religion in admission to colleges, jobs, and other publicly funded institutions – effectively prohibiting affirmative action by public institutions based on those factors. The Proposal's constitutionality was challenged in federal court, but its constitutionality was ultimately upheld by the Supreme Court of the United States.