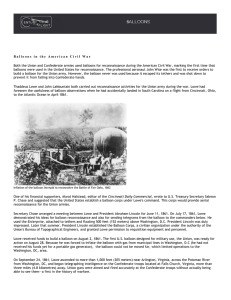 Balloons in the American Civil War Both the Union and Confederate
... One of his financial supporters, Murat Halstead, editor of the Cincinnati Daily Commercial, wrote to U.S. Treasury Secretary Salmon P. Chase and suggested that the United States establish a balloon corps under Lowe's command. This corps would provide aerial reconnaissance for the Union armies. Secre ...
Thaddeus S. C. Lowe
Thaddeus Sobieski Constantine Lowe (August 20, 1832 - January 16, 1913), also known as Professor T. S. C. Lowe, was an American Civil War aeronaut, scientist and inventor, mostly self-educated in the fields of chemistry, meteorology, and aeronautics, and the father of military aerial reconnaissance in the United States. By the late 1850s he was well known for his advanced theories in the meteorological sciences as well as his balloon building. Among his aspirations were plans for a transatlantic flight.Lowe's scientific endeavors were cut short by the onset of the American Civil War. He recognized his patriotic duty in offering his services as an aeronaut for the purposes of performing aerial reconnaissance on the Confederate troops on behalf of the Union Army. In July 1861 Lowe was appointed Chief Aeronaut of the Union Army Balloon Corps by President Abraham Lincoln. Though his work was generally successful, it was not fully appreciated by all members of the military, and disputes over his operations and pay scale forced him to resign in 1863. Lowe returned to the private sector and continued his scientific exploration of hydrogen gas manufacturing. He invented the water gas process by which large amounts of hydrogen gas could be produced from steam and charcoal. His inventions and patents on this process and ice making machines made him a millionaire.In 1887 he moved to Los Angeles, California, and eventually built a 24,000 sq. ft. (2,230 m2) home in Pasadena. He opened several ice making plants and founded Citizen's Bank of Los Angeles. Lowe was introduced to David J. Macpherson, a civil engineer, who had drawn up plans for a scenic mountain railroad. In 1891 they incorporated the Pasadena & Mount Wilson Railroad Co. and began the construction of what would become the Mount Lowe Railway into the hills above Altadena. The railway opened on July 4, 1893 and was met with quick interest and success. Lowe continued construction toward Oak Mountain, renamed Mount Lowe, at an exhaustive rate, both physically and financially. By 1899 Lowe had gone into receivership and eventually lost the railway to Jared S. Torrance. Lowe's fortunes had been all but lost, and he lived out his remaining days at his daughter's home in Pasadena where he died at age 80.