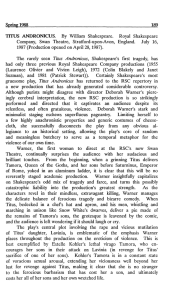 TITUS ANDRONICUS. By William Shakespeare. Royal
... and meaningless butchery to serve as a temporal metaphor for the violence of our own time. Warner, the first woman to direct at the RSC's new Swan Theatre, continually surprises the audience with her audacious and brilliant touches. From the beginning, when a grinning Titus delivers Tamora, Queen of ...
Titus Andronicus
Titus Andronicus is a tragedy by William Shakespeare, believed to have been written between 1588 and 1593, probably in collaboration with George Peele. It is thought to be Shakespeare's first tragedy, and is often seen as his attempt to emulate the violent and bloody revenge plays of his contemporaries, which were extremely popular with audiences throughout the sixteenth century.The play is set during the latter days of the Roman Empire and tells the fictional story of Titus, a general in the Roman army, who is engaged in a cycle of revenge with Tamora, Queen of the Goths. It is Shakespeare's bloodiest and most violent work and traditionally was one of his least respected plays. Although it was extremely popular in its day, by the later seventeenth century it had fallen out of favour. In the Victorian era, it was disapproved of primarily because of what was considered to be a distasteful use of graphic violence, but from around the middle of the twentieth century its reputation began to improve.