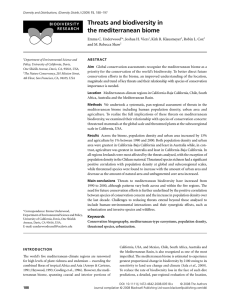 Threats and biodiversity in the mediterranean biome
... Studies from within the five mediterranean regions provide evidence that these threats are also of concern to mediterranean biodiversity: e.g. population density and growth of urban areas (Rouget et al., 2003a; Schwartz et al., 2006), conversion to agriculture (le Houérou, 1981; Hobbs, 1998) and con ...
Mediterranean monk seal
The Mediterranean monk seal (Monachus monachus) is a pinniped belonging to the family Phocidae. At some 450–510 (fewer than 600) remaining individuals, it is believed to be the world's rarest pinniped species, and one of the most endangered mammals in the world.It is present in parts of the Mediterranean Sea as well as eastern Atlantic Ocean waters around the Tropic of Cancer.