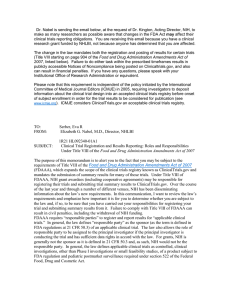 Clinical Trial Registration: Role and Responsibilities
... Responsible parties who have not yet registered their clinical trials should do so immediately. The first step in the registration process is to obtain a ClinicalTrials.gov Protocol Registration System (PRS) account. Responsible parties who have already registered are urged to fill in all applicabl ...
Mock trial
A mock trial is an act or imitation trial. It is similar to a moot court, but mock trials simulate lower-court trials, while moot court simulates appellate court hearings. Attorneys preparing for a real trial might use a mock trial consisting of volunteers as role players to test theories or experiment with each other. Mock trial is also the name of an extracurricular program in which students participate in rehearsed trials to learn about the legal system in a competitive manner. Interscholastic mock trials take place on all levels including primary school, middle school, high school, college, and law school. Mock trial is often taught in conjunction with a course in Trial Advocacy or takes place as an after school enrichment activity.