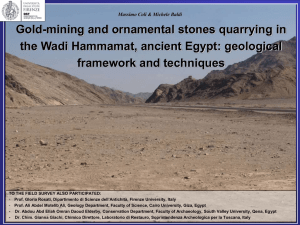 bekhen-stone - Lapidei Culturali
... meters and therefore they were later cut into smaller blocks dressed to the right size In order to do this, a line of wedge-shaped holes was chiselled into the rock, then iron wedges were inserted into them and hammered until the block split along the line Wedging was used for rough splitting, but f ...
Saint Catherine, Egypt
Saint Catherine (also spelled: St. Katrine; Egyptian Arabic: سانت كاترين pronounced [ˈsænte kætˈɾiːn]) is the capital city of Saint Catherine Markaz in the South Sinai Governorate in the Sinai Peninsula, Egypt. It is located at the outskirts of El-Tur Mountains at an elevation of 1,586 m (5,203 ft), 120 km (75 mi) away from Nuweiba, at the foot of Mount Sinai and the Saint Catherine's Monastery. Its population is 4,603 (1994).