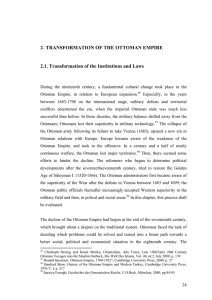 2- TRANSFORMATION OF THE OTTOMAN EMPIRE 2.1
... Leader of the movement who aimed to put Selim III back on the throne was Alemdar Mustafa Pasha, the ayan of Rumelia, marched against Istanbul together with his army. Alemdar seized the capital, put down the uprising, and demanded Selim's restoration to the throne. However, Selim had been killed in ...
Great Turkish War
The Great Turkish War (German: Der Große Türkenkrieg) or the War of the Holy League (Turkish: Kutsal İttifak Savaşları) was a series of conflicts between the Ottoman Empire and several contemporary European powers joined into a Holy League, beginning in 1683 and ending with the signing of the Treaty of Karlowitz in 1699. The war was a defeat for the Ottoman Empire, which lost large amounts of territory in Central Europe. The war was also significant in that it marked the first time Russia was involved in a western European alliance.