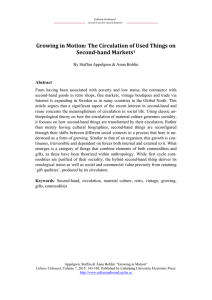 Full article
... previous focus on the actual exchanges to study objects not as things being traded, gifted or sacrificed, but as 'things-in-motion' (Appadurai 1986: 5). They thereby detached themselves from the human-centred perspective of exchange-focused anthropology and suggested that objects, with their social ...
Collections management (museum)
Collections management involves the development, storage, and preservation of collections and cultural heritage. The primary goal of collections management is to meet the needs of the individual collector or collecting institution's mission statement, while also ensuring the long-term safety and sustainability of the cultural objects within the collector's care. Collections management, which consists primarily of the administrative responsibilities associated with collection development, is closely related to collections care, which is the physical preservation of cultural heritage. The professions most influenced by collections management include collection managers, registrars, and archivists.