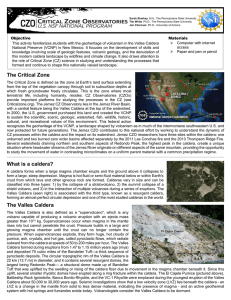 The Critical Zone What is a caldera? The Valles Caldera
... A caldera forms when a large magma chamber erupts and the ground above it collapses to form a large, steep depression. Magma is hot fluid or semi-fluid material below or within Earth's crust from which lava and other igneous rock are formed. Calderas vary in size and can be classified into three typ ...
Mount Kilimanjaro
Mount Kilimanjaro /ˌkɪlɪmənˈdʒɑːroʊ/, with its three volcanic cones, ""Kibo"", ""Mawenzi"", and ""Shira"", is a dormant volcanic mountain in Tanzania. It is the highest mountain in Africa, and rises approximately 4,877 metres (16,001 ft) from its base to 5,895 metres (19,341 ft) above sea level. The first recorded ascent to the summit of the mountain was by Hans Meyer and Ludwig Purtscheller in 1889. The mountain is part of the Kilimanjaro National Park and is a major climbing destination. The mountain has been the subject of many scientific studies because of its shrinking glaciers.