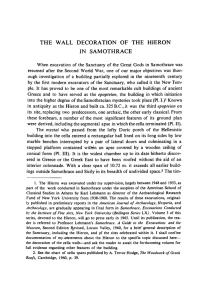 THE WALL DECORATION OF THE HIERON IN SAMOTHRACE
... the earliest preserved building on which the wall blocks were allowed to re­ tain their drafting for decorative effect. Retention of the protective layer of stone normally removed from smoothly dressed blocks, once they had been placed, occurs earlier in Greek architecture only on unfinished buildin ...
Mural
A mural is any piece of artwork painted or applied directly on a wall, ceiling or other large permanent surface. A distinguishing characteristic of mural painting is that the architectural elements of the given space are harmoniously incorporated into the picture.Some wall paintings are painted on large canvases, which are then attached to the wall (e.g., with marouflage). Whether these works can be accurately called ""murals"" is a subject of some controversy in the art world, but the technique has been in common use since the late 19th century.