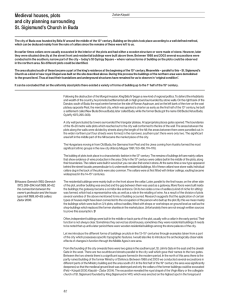 Medieval houses, plots and city planning surrounding St
... types of houses might have been connected to the occupation of the person who built up the plot. By this we mean mainly the buildings which were built on 3/4 plots, without sediles, fitted with shops or workshops on ground level as well as the shop-buildings which replaced the former shanties in the ...
Buda Castle
Buda Castle (Hungarian: Budavári Palota, German: Burgpalast, Turkish: Budin Kalesi or Kızılhisar) is the historical castle and palace complex of the Hungarian kings in Budapest, and was first completed in 1265. In the past, it has been called Royal Palace (Hungarian: Királyi-palota) and Royal Castle (Hungarian: Királyi Vár, German: Königliche Burg).Buda Castle was built on the southern tip of Castle Hill, bounded on the north by what is known as the Castle District (Várnegyed), which is famous for its Medieval, Baroque, and 19th-century houses, churches, and public buildings. It is linked to Clark Ádám Square and the Széchenyi Chain Bridge by the Castle Hill Funicular.The castle is a part of the Budapest World Heritage Site, which was declared a Heritage Site in 1987.