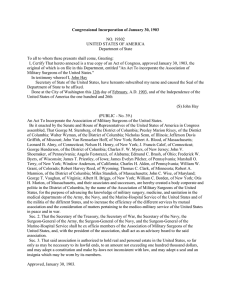 Congressional Charter
... To all to whom these presents shall come, Greeting: I, Certify That hereto annexed is a true copy of an Act of Congress, approved January 30, 1903, the original of which is on file in this Department, entitled "An Act To incorporate the Association of Military Surgeons of the United States." In test ...
Space Shuttle Columbia
Space Shuttle Columbia (NASA Orbiter Vehicle Designation: OV-102) was the first space-rated Space Shuttle in NASA's orbiter fleet. It launched for the first time on mission STS-1 on 12 April 1981, the first flight of the Space Shuttle program. Over 22 years of service it completed 27 missions before disintegrating during re-entry near the end of its 28th mission, STS-107 on 1 February 2003, resulting in the deaths of all seven crew members.