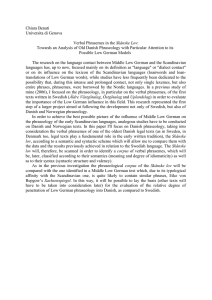 Conference Abstracts - Penn State University
... All of the authors wrote in attempts at Pennsylvania High German and used fraktur script, so there is no doubt that all received some formal education in standard German. The diary spans one-and-a-half years and covers the daily activities of a private during his active duty on Sherman's March to th ...
Swiss German
Swiss German (German: Schweizerdeutsch, Alemannic German: Schwyzerdütsch, Schwiizertüütsch, Schwizertitsch) refers to any of the Alemannic dialects spoken in Switzerland and in some Alpine communities in Northern Italy. Occasionally, the Alemannic dialects spoken in other countries are grouped together with Swiss German, as well, especially the dialects of Liechtenstein and Austrian Vorarlberg, which are closely associated to Switzerland's.Linguistically, Swiss German forms no unity. The linguistic division of Alemannic is rather into Low, High and Highest Alemannic, varieties of all of which are spoken both inside and outside of Switzerland. The reason ""Swiss German"" dialects constitute a special group is their almost unrestricted use as a spoken language in practically all situations of daily life, whereas the use of the Alemannic dialects in the other countries is restricted or even endangered.The dialects of Swiss German must not be confused with Swiss Standard German, the variety of Standard German used in Switzerland. German people tend not to understand Swiss German, therefore when an interview with a Swiss German speaker is shown on German television, subtitles are required. Although Swiss German is the native language, from age 6 people additionally learn Swiss Standard German at school and are thus fully able to understand, write and to speak Standard German with varying abilities mainly based on the level of education.