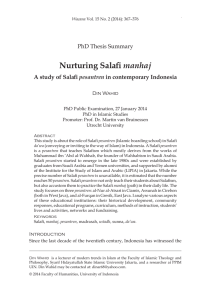 Nurturing Salafi manhaj
... once the Salafis had opportunity to exercise power, they abused it. Roel Meijer (2009) has edited Global Salafism that provided us with a comprehensive understanding of the movement. The significance of this book lies in its discussion of all aspects connected with the Salafi movement in the world, ...
Hidayatullah (Islamic organization)
Hidayatullah is an Islamic organization in Indonesia.