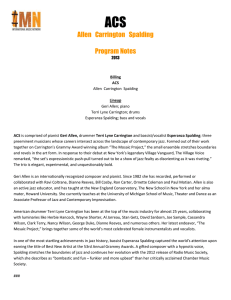 Allen Carrington Spalding - International Music Network
... Carrington's production and songwriting collaborations with artists such as Gino Vannelli, Peabo Bryson, Dianne Reeves, Siedah Garrett, Marilyn Scott have produced notable works as well, including a special song commissioned by the Atlanta Committee for the 1996 Olympic Games, "Always Reach for Your ...
Smile (Lily Allen song)
""Smile"" is the debut single by British recording artist Lily Allen from her debut studio album Alright, Still (2006). It was written by Allen, Iyiola Babalola and Darren Lewis, while sampling The Soul Brothers' ""Free Soul"". The song was released as the lead mainstream single of the album in July 2006. After signing a contract deal with Regal Recordings and gaining popularity on the social network website Myspace with demo songs, Allen released a limited edition of ""LDN"" to promote her work and afterwards announced the release of ""Smile"".The song incorporates rocksteady music, as the lyrics tackle her dealing with the betrayal of her boyfriend, while enjoying his misery. Most contemporary critics complimented the song, noticing the confidence it hides and the carnival-esque, yet melancholy, theme. On the other hand, some considered it was not one of the album's best tracks and it makes the singer a ""theoretical pop princess"". The single peaked inside the top 40 of the charts of some European countries and Australia, while staying on the summit of the UK Singles Chart for two consecutive weeks and ended the year as the country's 11th most successful song. It is also charted on the U.S. Billboard Hot 100, where it was certified gold.For promotion, ""Smile"" was re-recorded in Simlish and played on shows; it also received its own answer song. The accompanying music video portrayed a revenge theme, with Allen hiring a posse to beat her ex-boyfriend. It was directed by Sophie Muller and, afterwards, banned on MTV due to obscene language. The song was performed live many times, including on talk shows, her 2007 concert tour and also during her 2009 concert tour, though Allen claimed to be ""sick"" of it. In 2008, it won a Pop Award at the London Broadcast Music Incorporated Awards.