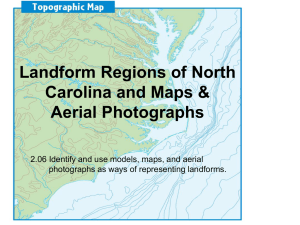 Landform Regions of North Carolina and Maps
... contour, or shape, of the land, as well as the elevation, or height of different parts of the land. Topographic maps also show special features, like rivers and streams. ...
Aerial photography
Aerial photography is the taking of photographs of the ground from an elevated position. Usually the camera is not supported by a ground-based structure. Platforms for aerial photography include fixed-wing aircraft, helicopters, multirotor Unmanned Aircraft Systems (UAS), balloons, blimps and dirigibles, rockets, pigeons, kites, parachutes, stand-alone telescoping and vehicle-mounted poles. Mounted cameras may be triggered remotely or automatically; hand-held photographs may be taken by a photographer.Aerial photography should not be confused with air-to-air photography, where one or more aircraft are used as chase planes that ""chase"" and photograph other aircraft in flight.