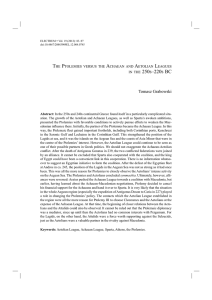 the ptolemies versus the achaean and aetolian leagues in the 250s
... neutralize his act related to the same issue. Certainly, this was the foremost reason behind using the popular slogan, but it can also be interpreted as an introduction to a much larger-scale Greek policy. His declaration, like that of Antigonus', was after all aimed against the interests of Ptolemy ...
Antigonus II Gonatas
""Antigonus II"" redirects here. For the Judean prince, see Antigonus II Mattathias.Antigonus II Gonatas (Greek: Ἀντίγονος B΄ Γονατᾶς) (319–239 BC) was a powerful ruler who solidified the position of the Antigonid dynasty in Macedon after a long period defined by anarchy and chaos and acquired fame for his victory over the Gauls who had invaded the Balkans.