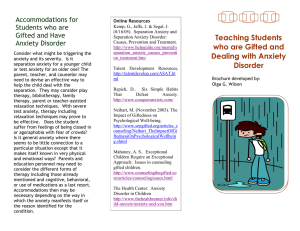 Teaching Students who are Gifted and Dealing with Anxiety Disorder
... Conduct Socratic debates, discussing issues of importance to society and students alike. Redirect negative self-talk by teaching "power language", i.e., "I can't control my anxiety" becomes, "I can control my anxiety, and I'm learning skills to conquer it." Use team approach including parents, teach ...
Bibliotherapy
Bibliotherapy is an expressive therapy that involves the reading of specific texts with the purpose of healing. It uses an individual's relationship to the content of books and poetry and other written words as therapy. Bibliotherapy is often combined with writing therapy. It has been shown to be effective in the treatment of depression. These results have been shown to be long-lasting.