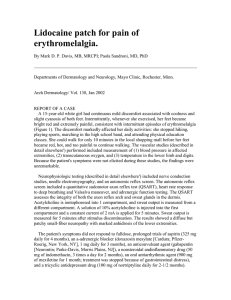 Lidocaine patch for pain of erythromelalgia
... The pain of erythromelalgia is frequently disabling, and patients often obtain relief by lowering skin temperature (e.g., by applying cold objects to the affected area, exposing the affected extremities to cold surfaces, or immersing the limb in ice water) or by elevating the affected extremity. Fre ...
Erythromelalgia
Erythromelalgia, formerly known as Mitchell's disease (after Silas Weir Mitchell), acromelalgia, red neuralgia, or erythermalgia, is a rare neurovascular peripheral pain disorder in which blood vessels, usually in the lower extremities or hands, are episodically blocked (frequently on and off daily), then become hyperemic and inflamed. There is severe burning pain (in the small fiber sensory nerves) and skin redness. The attacks are periodic and are commonly triggered by heat, pressure, mild activity, exertion, insomnia or stress. Erythromelalgia may occur either as a primary or secondary disorder (i.e. a disorder in and of itself or a symptom of another condition). Secondary erythromelalgia can result from small fiber peripheral neuropathy of any cause, polycythemia vera, essential thrombocytosis, hypercholesterolemia, mushroom or mercury poisoning, and some autoimmune disorders. Primary erythromelalgia is caused by mutation of the voltage-gated sodium channel α-subunit gene SCN9A.In 2004 erythromelalgia became the first human disorder in which it has been possible to associate an ion channel mutation with chronic neuropathic pain; when its pathophysiology was initially published in the Journal of Medical Genetics. Conversely, in December 2006 a University of Cambridge team reported an SCN9A mutation that resulted in a complete lack of pain sensation in a Pakistani street performer and some of his family members. He felt no pain, walked on hot coals and stabbed himself to entertain crowds.