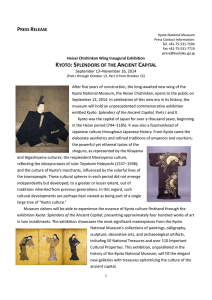 kyoto:splendors of the ancient capital
... bodhisattva that he embodied. All these works are Important Cultural Properties. Through these and the rest of the twenty works in this exhibition, visitors will be able to come face to face with icons of Heian and Kamakura sculpture. Portrait Sculpture (Part I, September 13–November 9, 2014) Japane ...
Kyoto
Kyoto (京都市, Kyōto-shi, pronounced [kʲoːꜜto.ɕi]; UK /kɪˈoʊtoʊ/, US /kiˈoʊ-/, or /ˈkjoʊ-/), formerly known as Meaco, is a city located in the central part of the island of Honshu, Japan. It has a population close to 1.5 million. Formerly the Imperial capital of Japan for more than one thousand years, it is now the capital city of Kyoto Prefecture located in the Kansai region, as well as a major part of the Kyoto-Osaka-Kobe metropolitan area. Kyoto is also known as the City of Ten Thousand Shrines.