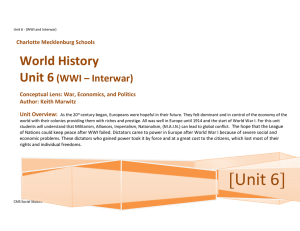 WH Unit 6 - WWI through Interwar
... Borijove Jevtic, one of the members of the Black Hand who was arrested with Gavrilo Princip immediately after the assassination, gave this firsthand account of the killing. A great primary resource on the assassination! These videos take on a humorous and education twist on WWI. Videos range from 2‐ ...
History of assassination
Assassination, the murder of an opponent or well-known public figure, is one of the oldest tools of power struggles, as well as the expression of certain psychopathic disorders. It dates back to the earliest governments and tribal structures of the world.