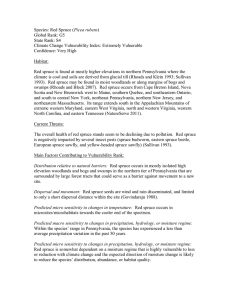 Species: Red Spruce (Picea rubens)
... Dispersal and movement: Red spruce seeds are wind and rain disseminated, and limited to only a short dispersal distance within the site (Govindaraju 1988). Predicted micro sensitivity to changes in temperature: Red spruce occurs in microsites/microhabitats towards the cooler end of the spectrum. Pre ...
Picea glauca
Picea glauca (white spruce) is a species of spruce native to the northern temperate and boreal forests in North America, from central Alaska to as far east as the Avalon Peninsula in Newfoundland, and south to northern Montana, Minnesota, Wisconsin, Michigan, northwestern Pennsylvania, upstate New York, Vermont, New Hampshire, and Maine; there is also an isolated population in the Black Hills of South Dakota and Wyoming. It is also known as Canadian spruce, skunk spruce, cat spruce, Black Hills spruce, western white spruce, Alberta white spruce, and Porsild spruce.