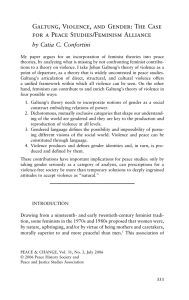 Galtung, Violence, and Gender: The Case for a Peace Studies
... produce torture hardware (the artifacts used in the torture chambers have to be produced somewhere, most likely by a corporation, and shipped somewhere else), torture software (personnel has to be trained to torture), and torture research (to determine the methods and effectiveness of torture).28 Th ...
Domestic violence in Australia
In Australia, the issue of domestic violence is addressed through the use of Apprehended Domestic Violence Orders (ADVO).In 2002 the Federal Government established the National Initiative to Combat Sexual Assault with funding of $16.1 million. On top of that there is a $50 million funding for the Partnership Against Domestic Violence.In 2012 the Domestic and Family Violence Protection Act was amended to reflect contemporary understandings of domestic and family violence. Examples of relationships that fall under the new act are same-sex relationships & ""one night stands"" where a child is produced.Domestic violence may include numerous factors including: emotional, verbal, social, economic, psychological, spiritual, physical and sexual abuse.