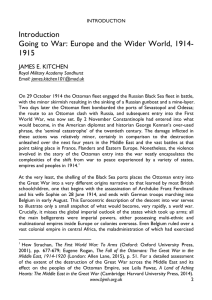 Introduction Going to War: Europe and the Wider World, 1914
... Mulligan which locates the crisis of 1914 in a longer history of international relations problems and attempts at multilateral solutions.6 It is evident that despite the spilling of much ink, historians of the First World War are no closer to a settled discourse on its origins. This is, however, pre ...
Ottoman entry into World War I
The Ottoman Empire's entry into World War I came in November 1914, after three months of official neutrality. The reasons for the Ottoman action that precipitated war were not immediately clear, since the empire was not formally allied with any of the great powers. This decision would ultimately lead to the deaths of hundreds of thousands of Ottomans and the eventual dissolution of the empire.