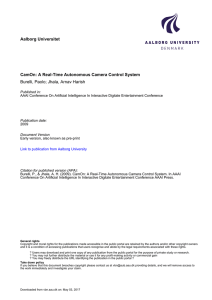 CamOn A Real-Time Autonomous Camera Control System
... multiple Artificial Potential Fields (APFs), a robot motion planning technique, to control both the location and orientation of the camera. Scene geometry from the 3D environment contributes to the potential field that is used to determine position and movement of the camera. Composition constraints ...
GoPro
GoPro, Inc. (formerly Woodman Labs, Inc), is an American manufacturer of action cameras, often used in extreme-action videography.