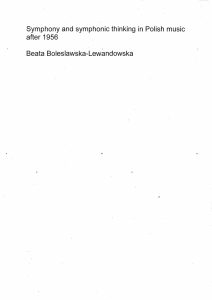 Symphony and symphonic thinking in Polish music after
... is general and recalls some o f the first impressions the word 'symphony' brings to people's minds. However, one has to realise quickly that there really is no easy definition o f what is 'the symphony'. It is even more complicated considering the symphony's long and rich tradition, with all its his ...
Symphony No. 2 (Lutosławski)
The Symphony No. 2 by the Polish composer Witold Lutosławski is an orchestral composition in two movements written between 1965 and 1967. The work exhibits Lutosławski's technique of ""limited aleatoricism"", where the individual instrumental parts are notated exactly, but their precise co-ordination is organised using controlled elements of chance.