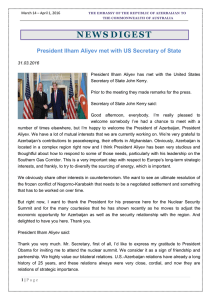 March 14 – April 1, 2016 - Embassy of the Republic of Azerbaijan to
... based on United Nations Security Council resolution, which demand immediate and unconditional withdrawal of Armenian troops from our territories. The conflict between Armenia and Azerbaijan, all the conflicts in post-Soviet area and in the world, must be resolved based on territorial integrity of th ...
Azerbaijan–Iran relations
Azerbaijan–Iran relations are foreign relations between Azerbaijan and Iran. Iran has an embassy in Baku and a consulate-general in Nakhchivan City. Azerbaijan has an embassy in Tehran and a consulate-general in Tabriz.Iran and Azerbaijan share, to a large extent, the same history, religion, culture and ethnicity. The territory of what is now called the Republic of Azerbaijan was only separated from Iran in the first half of the 19th century, through the Russo-Persian Wars. In the area to the North of the river Aras, the territory of the contemporary Republic of Azerbaijan was Iranian territory until it was occupied by Russia.Iran and Azerbaijan are furthermore the only official Shia Muslim nations in the world where the vast majority of the people are Shia Muslims. They have respectively the highest and second highest Shia population percentage in the world, as well as the history of Shi'ism which is rooted in both nations from exactly the same moment in history, whereas the majority of the population of both their neighboring nations are either predominantly Christians or Sunni Muslims. Despite this, the religious landscape in both countries are completely different. Iran is a theocratic state that actively promotes and imposes the faith on the people, whereas Azerbaijan is officially secular and discourages religious influence in the public sphere and state affairs; additionally, religious observance is extremely low in the population due to decades of Soviet rule. The world's largest population of ethnic Azerbaijanis also live in Iran.As the Soviet Union dissolved in 1991, a relatively downwards spiral started in the modern relations between Iran and Azerbaijan which lasted up to and including 2012, mainly commencing due to issues surrounding Azerbaijans Nagorno-Karabakh conflict with Armenia. Iran, instead of backing up Azerbaijan, backed up Christian Armenia, much to the anger of the Republic of Azerbaijan and Iran's own large ethnic Azerbaijani population, both of whom viewed this as an act of betrayal. However, recently since 2013-2014, relations have significantly re-improved with the advent of the Hassan Rouhani administration, who has since the start of his administration put significant efforts in making Azerbaijani-Iranian ties soar higher than ever. In May 2015, the Ambassador of Iran to Azerbaijan announced that it doesn't recognize the self-proclaimed "Nagorno-Karabakh Republic", further boosting Azerbaijan–Iran relations. Iran and Azerbaijan have had modern diplomatic relations since 1918. Iran recognized Azerbaijan's independence in 1991, and diplomatic relations between the two countries were established in 1992. Both countries are full members of the Economic Cooperation Organization (ECO) and the Organisation of Islamic Cooperation (OIC).