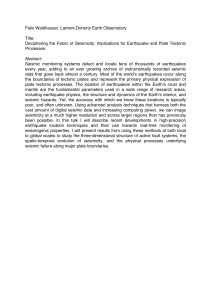 Felix Waldhauser, Lamont-Doherty Earth Observatory Title
... the boundaries of tectonic plates and represent the primary physical expression of plate tectonic processes. The location of earthquakes within the Earth's crust and mantle are the fundamental parameters used in a wide range of research areas, including earthquake physics, the structure and dynamics ...
Earthscope
Earthscope is an earth science program using geological and geophysical techniques to explore the structure and evolution of the North American continent and to understand the processes controlling earthquakes and volcanoes. The project has three components: USARRAY, the Plate Boundary Observatory, and the San Andreas Fault Observatory at Depth.The project is funded by the National Science Foundation (NSF), and the data produced is publicly accessible in real-time. Organizations associated with the project include UNAVCO, the Incorporated Research Institutions for Seismology (IRIS), Stanford University, the United States Geological Survey (USGS) and National Aeronautics and Space Administration (NASA). Several international organizations also contribute to the initiative.