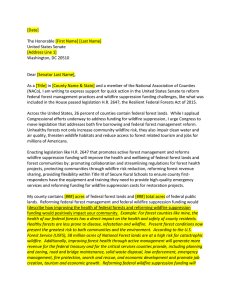 - National Association of Counties
... federal forest management practices and wildfire suppression funding challenges, like what was included in the House passed legislation H.R. 2647, the Resilient Federal Forests Act of 2015. Across the United States, 26 percent of counties contain federal forest lands. While I applaud Congressional e ...
Wildfire emergency management
Wildfires are outdoor fires that occur in the wilderness or other vast spaces. Other common names associated with wildfires are brushfire and forest fire. Since wildfires can occur anywhere on the planet, except for Antarctica, they pose a threat to civilizations and wildlife alike. In terms of emergency management, wildfires can be particularly devastating. Given their ability to destroy large areas of entire ecosystems, there must be a contingency plan in effect to be as prepared as possible in case of a wildfire and to be adequately prepared to handle the aftermath of one as well.Emergency management has four distinct phases that create the management process. These phases are mitigation, preparation, response, and recovery. While each phase has a distinct role in the emergency management process, there are aspects of each that interconnect with others. A management process without any one of the four phases could be deemed incomplete and inadequate. Mitigation is easily defined as prevention. Preparedness is the act of changing behaviors or processes to reduce the impact a disaster may have on a population or group. Response is assembling teams or units of emergency service to the area of disaster. Finally, recovery aims to restore the area affected by the disaster to its condition prior to the disaster.